ENRICA BORGHI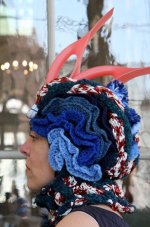 Enrica Borghi was born in Macugnaga (Verbania), at the foot of the Monte Rosa massif.
Currently she lives and works on the hills of Lake Orta.
In 1990 she was awarded an MA degree, with a specialisation in sculpture from the Brera Fine Arts Academy in Milan, where she studied under the direction of Alik Cavaliere.
In 2008 she was selected for "The Planetary Collegium" Ph.D. M-node in collaboration with the University of Plymouth and the NABA Nuova Accademia Belle Arti of Milan.
In 2005 she founded and became the president of Asilo Bianco, a Cultural Centre dedicated to the development of the territory surrounding Ameno through literature and the arts.
Selected solo shows
2018
Eco. Opere di Enrica Borghi, curated by Lorella Giudici, Castello Visconteo Sforzesco, Novara
2016
Déchet, text by Francesco Poli, Podgorny Robinson Gallery, Paris (France)
2014
Cristal dream, curated by Ronaldo Fiesoli, Patrizia Pepe Show Room, Prato.
Sexy plastic, curated by Giorgio Caione, PASAJ, Istanbul.
2013
Second Life, curated by Giovanna Nicoletti, Estorick Collection of Modern italian Art, London
2008
Patchwork City, Galleria Alberto Peola, Turin
2007
Blu, Duet Art, Varese
2006
Rosa, rosae, rosam curated by Giovanna Nicoletti, Galleria Civica G. Segantini, Arco (Trento).
Horno de la Ciudadela, Pamplona
La Regina, Musèe des Beaux-Arts, Bordeaux
L'avant - Scene, curated by Gilbert Perlein, Université de Nice Sophia-Antipolis, Nice
2005
Carta Stagnola, Studio d'Arte Raffaelli, Trento
EB, curated by Gilbert Perlein and Jean Marc Reol, MAMAC Musèe d'art Moderne et Contemporain, Nice
2004
Bio-boutique, curated by Odile Biec, Le Parvis, Centre d'Art Contemporain, Ibos
Bio', curated by Mariella Rossi, Studio d'Arte Raffaelli, Trento
Plastica d'artista, curated by Maria Campitelli, Palazzo Mantica, Pordenone
2003
Margherita, curated by Guido Curto, Museo Civico Casa Cavassa, Saluzzo
2002
Zapping in love, curated by Guido Curto, Palazzo Bricherasio, Turin
Locws International, curated by Tim Davies, David Hastie, Felicia Hughes
Freeland, Emma Safe, Dylan Thomas Centre, Swansea (Wales)
2001
Borghi in Fashion, Fondazione Teseco, Pisa.
2000
Nebulosa, Galleria Alberto Peola, Turin.
Enrica Borghi, curated by Dede Auregli, text by Francesca Pasini, Spazio Aperto, Galleria d'Arte Moderna, Bologna.
Gioielleria, Galleria La Nuova Pesa, Rome.
1999
La Regina. Installazione per i bambini, curated by Rivoli Castle Education Department, text by Massimo Melotti, Museo d'Arte Contemporanea, Rivoli (Turin)
Grande Soirée, Claudia Gian Ferrari Arte Contemporanea, Milan
1996
Rifiutata, Galleria Alberto Peola, Turin

Selected group shows
2018
Re.use: scarti, oggetti, ecologia nell'arte contemporanea, curated by Valerio Dehò, Musei Civici, Treviso
A cavallo di un raggio di luce. Opere luminose nel Parco d'Arte Quarelli a cura di Alessandro Demma, Roccaverano AT
Light Festival Lago Maggiore, curated by Bianca Trasoldi, Giorgio Caione, Francesca Gattoni, Lesa
VANITAS: Traces of Beauty, curated by Giovanna Nicoletti, NO20, Londra
Continuum. Lo spirito di un luogo, curated by Giorgio Caione e Francesca Gattoni, Villa Nigra, Miasino (Novara)
Nel frammento tutto, curated by Luigi Coderno, GASC | Galleria d'Arte Sacra dei Contemporanei, Milano
2017
Evolutionary Patterns, curated by Roberto Mastroianni, Galleria Opere Scelte, Torino
La vanitas e il suo riflesso, curated by Giovanna Nicoletti, Hortus Artieri, Trento
Extra-Geometrie in bilico tra arte e design, curated by Antonio De Luca e Marianna Foglia, Padiglione Ex18, Vercelli, 2017
2015
Missoni, l'arte il colore, cureted by Luciano Caramel and Emma Zanella, Museo MAGA, Gallarate
e-Luminate Cambridge Festival, a cura di Alessandra Caggiano, Cambridge (UK)
2013
Autoritratti. Iscrizioni del femminile nell'arte italiana contemporanea, curated by Francesca Pasini, MAMbo, Bologna.
//:(TT)+U=Think The Unthinkable, curated by Raffaele Quattrone, Galleria Oltre Dimore, Bologna.
2012
Geo Chavez. Di tanti uno solo, project Cooperazione transfrontaliera Italia-Svizzera, curated by Giorgio Caione and Francesca Gattoni, Spazio Museale Palazzo Tornielli, Ameno (Novara)
Beauty Case, la casualità della bellezza, curated by Francesca Gattoni, Galleria il Vicolo, Genoa.
2011
Italiens, junge Kunst in der Botschaft, curated by Alessandra Pace and Marina Sorbello, Italian Embassy, Berlin.
Abitualmente, curated by Francesca Gattoni, Galleria Duet, Varese
2010
Amore A-meno, curated by Elisabetta Longari, Spazio Museale Palazzo Tornielli, Ameno (Novara)
La scultura del XXI secolo, curated by Marco Meneguzzo, Fondazione Arnaldo Pomodoro, Milan
La pratica informativa dell'arte, curated by Giovanna Nicoletti, Palazzo Trentini, Trento.
Oltre il mito, Cavour nell'arte contemporanea, curated by Elisabetta Tolosano, Castello Cavour, Santena (Turin)
Torinomeforwe, curated by Susanna Mandice, Caserma Cavalli – Ex Arsenale Borgo Dora, Turin
2009
Landscape as a dream, curated by Luigi Meneghelli, Studio la Città, Verona.
Flower Power, curated by Andrea Busto, Villa Giulia, Verbania.
13 paradiso (cantico), curated by the Associazione Italo-Tedesca Lo Spirito del Lago, Hotel Elvezia, Isola Bella and Spazio Luparia, Stresa (Verbania)
2008
Junkbuilding, curated by Davide Giannella and Maria Chiara Piccioli, Triennale Bovisa, Milan
Nebulosa, curated by Piero Gilardi, Parco d'Arte Vivente, Turin
Roaming, curated by Alessandro Castiglioni, AssabOne, Milan
2007
Object's Matamorphosis, curated by Paolo Campiglio, Fondazione Ambrosetti Arte Contemporanea, Torretta Civica Sarnico and Palazzo Panella, Palazzolo (Brescia)
Fatto in Svezia, curated by Oscar Aschan, Museo Roda Sten, Goteborg
La Giovane Italia. Omaggio degli artisti italiani a Giuseppe Mazzini nel bicentenario della nascita, curated by Renato Barilli, Pinacoteca Nazionale, Bologna
La via del sale, arte contemporanea dalle Langhe al mare, curated by Nico Orengo and Silvana Peira, from Alba to Savona
Le trame di Penelope, curated by Emma Zanella, Civica Galleria d'Arte Moderna, Gallarate (Varese)
2006
Viaggio leggero. Niente da perdere / Traveling Light. Nothing to lose, curated by Julia Dragonovic, Chelsea Art Museum, New York
Capolavoro, curated by Angelo Capasso, Palazzo di Primavera, Terni
Natura: morte e resurrezione curated by Marisa Vescovo, Associazione Culturale Seghetti Panichi, Ascoli Piceno
Allegra con brio, Arte Italiana dalla Pop art a oggi, curated by Walter Guadagnini, Chiesa del Suffragio, Carrara
La Giovine Italia. Omaggio degli artisti italiani a Giuseppe Mazzini nel bicentenario della nascita, a cura di Renato Barilli, Galleria d'Arte La Fabbrica, Gambettola (Forlì-Cesena)
2005
Viaggio leggero. Niente da perdere/ / Traveling Light. Nothing to lose curated by Julia Dragonovic, Church of St. Paul, Modena
Disegnare il marmo, curated by Marisa Vescovo, Comune di Carrara
Dressing Ourselves, curated by Alessandro Guerriero, Milan Triennial
2004
Passione, Passioni, Arte Contemporanea ai Sacri Monti, coordinated by Yvette Bernizan, text by Gilbert Perlein, Domodossola and Ghiffa
Tour-Détour de Babel, inside the project by Piero Gilardi, Parco d'Arte Vivente, MAMCO, Musée d'Art Moderne et Contemporain, Geneva
Biome, inside the project by Piero Gilardi, Parco d'Arte Vivente, Le Consortium, Dijon
Z.A.T. Zone Artistiche Temporanee, XXII Premio Nazionale Arti Visive Città di Gallarate, curated by Antonio Abruzzese, Marco Meneguzzo, Roberto Pinto, Emma Zanella, Gallarate (Varese)
2003
Linee di luce, Palle di neve, Stadt Unna
Recycling Design, curated by Chantal Prod'hom, Mudac, Lausanne
In Tutti i Sensi, curated by Gabi Scardi, Superstudiopiù, Milan
Melting pop, curated by Gianluca Marziani, Palazzo delle Papesse, Siena
Art and Fashion Design: Cross-fertilization, Istituto italiano di Cultura, Los Angeles
2002
Sumptuous, curated by Lorenzo Fusi and Lucia Minunno, Cantieri Culturali Ex-Macelli, Prato (Florence)
Scultura Internazionale a la Mandria, curated by Victor De Circasia, Parco La Mandria, Turin
Money & Value/ The Last Taboo, curated by Harald Szeemann, Expo 02, Biel/Bienne
Locws 2, Dylan Thomas Centre, curated by David Hastie, Swansea (Wales)
Das Mass Der Dinge, curated by Julia Draganovic, ACC Galerie, Weimar
Tutto il potere è da creare, curated by Daniela Bigi, Acquario romano, Rome
2001
Nuove Acquisizioni, Galleria d'Arte Moderna, Turin
Transformers, Otto artisti per Trieste, installazioni urbane curated by Emanuela De Cecco, Roberto Pinto, canale Sant'Antonio, Trieste
La Toison d'or, Sabine Wachters Fine Arts, Brussels
Connecting World, curated by Istituto Italiano della Cultura di Washington, Kennedy Center, Washington
Il mito Aspirina nell'arte contemporanea, curated by Luciano Caramel, Cosmofarma, Bologna
2000
Progetto Arte-Incontri, curated by Michelangelo Pistoletto, Cittadellarte-Fondazione Pistoletto, Biella
Le pratiche della percezione, curated by Vittoria Coen, Galleria Civica d'Arte Contemporanea, Trento
1999
Torino a Nizza, una nuova generazione, Galerie des Ponchettes and Galerie de la marine, Nice
Proiezioni 2000, Lo spazio delle arti visive nella civiltà multimediale 8th Rome Quadrennial, Palazzo delle Esposizioni, Rome
Pollution, curated by Claudia Gian Ferrari and Manlio Brusatin, Gian Ferrari Arte Contemporanea, Milan
1998
...e i francesi ci rispettano, 40 artisti interpretano la bicicletta, curated by Marco Meneguzzo, Sarzana (La Spezia)
1997
In fuga. Arte attuale a Torino, curated by Riccardo Passoni, Galleria Civica d'Arte Moderna e Contemporanea, Ferrara
Trash. Quando i rifiuti diventano arte, curated by Lea Vergine, Museo d'Arte Moderna e Contemporanea di Trento e Rovereto, Palazzo delle Albere, Trento.
Aperto Italia '97. Giovane Arte e Giovane Critica, curated by Guido Curto, Trevi Flash Art Museum, Trevi (Perugia)
1996
Presentazioni, curated by Francesca Pasini, Viafarini, Milan
Nuovi arrivi, curated by Ivana Mulatero, Galleria di S. Filippo, Turin
Giardini, curated by Marco Meneguzzo, Galleria Dieda, Bassano del Grappa
Modernità-progetto 2000, curated by Marisa Vescovo and Marco Senaldi, Fondazione Bricherasio ex Lanificio Bona, Carignano (Turin)
1995
Interakcie I and II, Interazioni, curated by Zuzana Bartosova and Miroslava Hajek,
Galleria Uxa, Studio d'Arte Contemporanea, Novara
Galeria Klatovj, Zámek Klenová (Czech Republic)
Ex-church Mater Misericordie, Casale Monferrato (Alessandria)
Dis loc-azione, curated by Bianca Tosatti and Gigliola Rovasino, Spazio Sarema, Granarolo (Bologna)

Public Art

2018 Lago Maggiore Light Festival, Lesa (Novara)
2015 E- Luminate, Cambridge (UK)
2010/2011 Fete de la Lumiere de Lyon (Lyon, France)
2009/2010 Mosaico, Città di Torino, Urban light installation (Turin)
Palle di Neve, Marsiglia Capital of Culture (Marseilles, France)
2007/2009 Mosaico, Città di Salerno, Urban light installation (Salerno)
2003 Palle di neve, Stadt Unna (Unna, Germany)
1998-2012 Palle di Neve, Luci d'artista, City of Turin

Public Collections

Io sono vento, City of Brig (Switzerland), 2013
Senza titolo, Spazio Museale Palazzo Tornielli, Ameno (Novara), 2011
Architettura di luce, MAGA (Museo d'Arte Gallarate), Gallarate, 2008
Mosaico, City of Salerno, 2007
Blue Dress MAMAC, Nice, 2004
Venus, MAMAC, Nice, 2004
Carpet, Galleria d'Arte Moderna, Turin, 2003
Venus, Galleria d'Arte Moderna, Bologna, 2000
Palle di Neve, City of Turin, 1998
Fontanella di Venere, Torino Incontra, City of Turin, 1997

Special Projects

2018 Parade. Recycling warriors, Vernissage DREAMERs, Tool Box, Torino + Vernissage ECO, Castello di Novara
2017 Quarta Vetrina, curated by Francesca Pasini, Libreria delle donne, Milano
Zero Waste Jewellery, DREAMERs, Tool Box, Torino
2016 FestivaLetteratura di Mantova, workshop
2011 Madame Knit, Workshop Palazzo Madama, Turin
2010 Botteghe d'Arte Paolo Pini, workshop and show in MIART Fair, Milan
2005-2018 Asilo Bianco Coordinator
2005-2016 Inventor and coordinator of Studi Aperti Arts Festival, Ameno (Novara)
2003 Workshop, FestivaLetteratura of Mantua

Grants

2015 Fabbri Art Prize
2008 Francesca Alinovi Art Prize , Bologna
2006 Winner of Murri Public Art Prize, Bologna
2004 Artist in residence, La Napoule, Mandelieu, France
2000 Artist in residence, City of Weimar, ACC Galerie, Weimar, Germany
1997 Winner of Torino Incontra (first edition), Associazione Arte Giovane